Jones showcases overtaking prowess on tyre-ing day in Iowa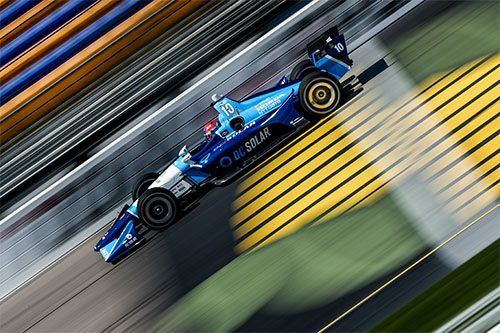 Dubai-born Brit produces 69 overtaking moves in a single race
Tyre degradation restricts IndyCar sophomore to 13th-place finish
Qualifying form proves pace around tough, bullring-style oval

Ed Jones unleashed an impressively feisty performance in last weekend's Iowa Corn 300 (8 July) – the 11th of 17 races on the 2018 Verizon IndyCar Series calendar – as he pulled off almost 70 overtaking moves on a day when extreme tyre degradation cost him a significantly higher finish.

Jones headed to Iowa Speedway – a 0.894-mile, high-banked oval characterised by intense G-forces and unforgiving bumps and dubbed the 'fastest short track on the planet' – off the back of four consecutive top ten results at the fiercely-disputed pinnacle of US open-wheel competition.

What's more, the talented young Dubai, UAE-born ace boasted an excellent previous record around the small bullring-style venue, having tallied a brace of podiums, a pole position and a fastest lap there in Indy Lights in 2015/16. He duly returned to Iowa in upbeat mood – albeit having been unable to participate in a group test at the circuit last month attended by 13 of his 21 high-calibre rivals.

Jones shrugged off that disadvantage to place tenth in the opening free practice session on Saturday, before posting a two-lap average speed of 178.720mph to line up eighth on the grid for the 300-lap race – just two spots and barely a tenth-of-a-second-per-lap adrift of Chip Ganassi Racing stablemate Scott Dixon, the qualifying record-holder at the track.

Behind the wheel of his NTT DATA-backed, 720bhp Dallara-Honda single-seater, the 2016 Indy Lights Champion and 2017 IndyCar 'Rookie of the Year' subsequently improved again to sixth in final practice, leaving him feeling positive about his race day prospects.

"Iowa is a very challenging track," he acknowledged, "and to add to that challenge, it was quite a bit bumpier than last season. Having not tested there like some of the other teams did recently and with less downforce on the cars this year, the learning curve was definitely steeper.

"The balance that we had on the car made it a bit loose on corner entry, which was a little tricky on our qualifying laps. On both of them, I kind of lost the front end and had to chase it a bit. It wasn't ideal, but we gave it our best and we were optimistic the No.10 DC Solar car would be strong in race trim."

The biggest talking point ahead of the race was tyre wear, with the new universal aero kit that IndyCar implemented at the beginning of this season resulting in considerably more slides than usual throughout practice and qualifying. It was a factor that would have a sizeable impact on the eventual outcome.

Jones confidently held position in the early stages, right in the wheeltracks of his championship-leading, four-time title-winning team-mate, but the first warning signs came when he was obliged to pit earlier than anticipated on lap 57, his grip having all-but disappeared due to persistent oversteer that left him barely hanging on.

Following a front wing adjustment, the former European F3 Open Champion battled gamely back and had scythed his way through from 19th up to seventh by lap 86. He would produce an astonishing 69 passes in total – a figure bettered only by the race-winner – but four further pit-stops to replace his worn tyres restricted Jones to a frustrated 13th at the chequered flag, one spot behind Dixon and again with little to choose between the pair in terms of fastest laps.

"It was a tough day in the DC Solar car," acknowledged the 23-year-old Brit, who is being coached this year by multiple IndyCar Champion and Indy 500 winner Dario Franchitti. "The Ganassi boys did a mega job in practice and qualifying and I felt comfortable in the car for the race, but unfortunately the tyre degradation was much greater than we had expected. I think looking at the results, the teams that tested at Iowa last month really had the upper hand."

Jones will return to the fray this coming weekend for the Honda Indy Toronto on the downtown streets of the Canadian city (14/15 July).