Jones shines under the spotlights with podium-challenging Gateway run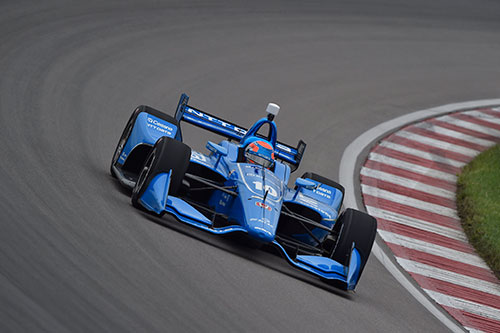 Dubai-born Brit threatens top three finish in Illinois
Ganassi ace takes the fight to IndyCar's heavy-hitters
23-year-old showcases spectacular overtaking skills

Ed Jones rolled the dice in last weekend's Bommarito Automotive Group 500 at Gateway Motorsports Park – round 15 of 17 on the fiercely-disputed Verizon IndyCar Series calendar – and whilst his late podium bid didn't quite come off under the Illinois floodlights, he nonetheless dug deep to tally a seventh top ten finish of the 2018 campaign.

Unlike many of its rivals, Chip Ganassi Racing did not test at the 1.25-mile St. Louis oval earlier this year, meaning IndyCar sophomore Jones headed into the weekend somewhat on the back foot. Impressively undeterred, the talented Dubai, UAE-born ace was immediately on the pace behind the wheel of his 720bhp Dallara-Honda single-seater, lapping fifth-quickest amongst the 21 high-calibre contenders in FP1 – a session repeatedly interrupted by rain that left puddles of standing water at the entry to the pit-lane.

With the elements playing havoc with the track schedule, qualifying was cancelled in favour of a longer final practice to allow drivers and teams more time to dial their cars in for the following evening's 248-lap race. Jones improved to fourth in that session – just two places behind championship-leading CGR stablemate Scott Dixon, the third-most successful driver in IndyCar history – and he duly went into the next day in confident mood.

"It obviously wasn't the situation anyone wanted with the weather, but that's what we were dealt," mused the 2016 Indy Lights Champion and 2017 IndyCar 'Rookie of the Year'. "The No.10 NTT DATA car was fast, and I was really pleased with that given we were one of the few teams that didn't take part in the Gateway test.

"It was super frustrating losing another opportunity to start up front, but in the running we had, we were able to make moves and pass cars so I was determined to fight my way through in the race."

The field lined up for the Bommarito Automotive Group 500 in championship order, meaning Jones took the start from 12th position but he gained three spots straightaway and soon settled into seventh, chasing former champions Simon Pagenaud and Ryan Hunter-Reay.

Breaking away from the pursuing pack and pegging leader Dixon for pace – at one stage posting the fastest lap of anybody at an average speed of 177.362mph – the erstwhile European F3 Open Champion went on a charge. Pulling off a series of spectacular overtakes, he scythed his way boldly past Pagenaud, defending title-holder and Gateway race-winner Josef Newgarden and 2016 Indianapolis 500 winner Alexander Rossi, before latching right onto his team-mate's tail.

A late splash 'n' dash fuel top-up with 22 laps to go dropped Jones to tenth, from where he battled back to eighth at the chequered flag – having spent the majority of the race running in close company with some of the biggest names in US open-wheel competition.

"We had decent pace, and if qualifying had gone ahead, I'm confident we would have been in the top five throughout," reflected the 23-year-old Brit, who is being coached this year by multiple IndyCar Champion and Indy 500 winner Dario Franchitti.

"It's tricky to pass at this track, but we made the most of what we had. I even climbed up to third at one point but when we caught the backmarkers, I got pushed a bit high and lost a lot of grip on the 'marbles'. It wasn't a bad result for the NTT DATA Car considering we started 12th, but for sure I think there was more in there."

Jones will return to the fray this weekend (30 August - 2 September) for the Grand Prix of Portland at Portland International Raceway, the penultimate round on IndyCar's 2018 schedule.