Jones Qualifies P4 For 2019 Indianapolis 500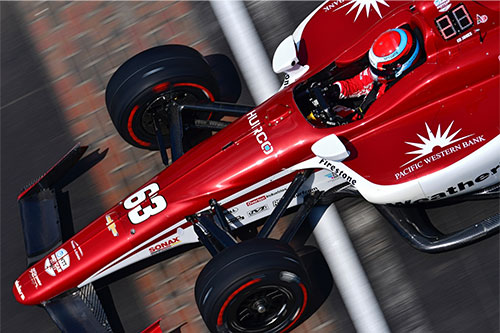 Jones Qualifies P4 For 2019 Indy 500
After qualifying for Sundays fast 9 shootout No. 63 Ed Carpenter Racing Scuderia Corsa Chevrolet driver Ed Jones achieved his best Indy 500 qualifying position to date. Jones will start the 103rd running of the Indianapolis 500 from position 4.
Jones has matched his career-best NTT IndyCar Series starting position with today's effort. He burst onto the scene with a third-place finish in his Indianapolis 500 debut in 2017. In addition to being the highest finishing rookie in the field, he went on to win the NTT IndyCar Series Rookie of the Year title. Last year, Jones collected two more podium finishes with Chip Ganassi Racing before joining Ed Carpenter Racing with Scuderia Corsa. The 24-year-old is also coming off of his best finish of the year as he took the checkered flag 6th in last weekend's INDYCAR Grand Prix.
The 2019 Fast Nine Shootout was delayed nearly four hours as rains moved through the Indianapolis Motor Speedway area. Instead of starting at 1:15 p.m. ET, the first Fast Nine challenger rolled out at 5:01 p.m. Drivers in the Fast Nine had to make one four-lap attempt, in order based on slowest to fastest from yesterday's qualifying times.
Ed's four laps boasted speeds of 230.196, 229.505, 229.486 and 229.400 for a four-lap average of 229.646 mph. For his third Indianapolis 500, Jones will start from the inside of Row 2.
Ed commented: "It was a good day. I qualified 4th for the Indianapolis 500! It's great for myself, Scuderia Corsa and Ed Carpenter Racing. Having three cars at the front is really positive. Of course, you always want to be on pole, but regardless it's great to be up front. It will give us a great chance for the win next Sunday and that's what it's all about!"