Jones takes 13th place in 103rd Running of the Indianapolis 500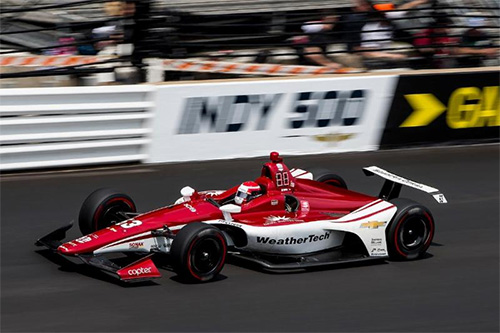 Jones finishes in 13th position at the 103rd Running of the Indianapolis 500
Ed Jones and the No. 63 Ed Carpenter Racing Scuderia Corsa Chevrolet entry closed the month of May by taking thirteen place at the 103rd Running of the Indianapolis 500 presented by Gainbridge.
Starting with a sixth-place finish at the IndyCar Grand Prix followed by a fourth-place starting position in the Indianapolis 500, May has proven to be a strong month for Scuderia Corsa and Ed Carpenter Racing.
For Jones, he is most thankful for the team support he had throughout May. "First of all, thank you to the team Scuderia Corsa and Ed Carpenter Racing," Jones said. "It was great working with everyone this month. Fortunately, we had the good weather, so that was nice, up to today we weren't sure about that. We struggled a bit with some issues at the start and restarts. That really hurts you a lot when those are really the biggest times to overtake. When you're unable to do anything at that point, it sets you back, and it's hard to recover. "But we were still running inside the top 10 or top eight. Then we had a problem at the second pit stop and that put us back. Once you get further back in the pack, it gets harder and harder to move forward. It's a bit of a disappointing day from where we started. All and all, it was a good starting point for Scuderia and me. Hopefully, we will be back next year and be a little stronger."
For Team Owner Giacomo Mattioli, Jones performance shined throughout May. "I am really proud of Ed Jones performance this month. He proved once again to be quick and consistent Today's race was a positive ending of an exciting month. I like to thank Ed Carpenter Racing for their professionalism, we are very pleased with our partnership and looking forward to the next race."
The next race for Jones and Scuderia Corsa is at the Raceway at Belle Isle in Detroit. The Dual in Detroit weekend features two races for the NTT IndyCar series Saturday, June 1 and Sunday, June 2. Both Race One and Race Two will be broadcasted on NBC.