Ed Jones starts Indy Toronto in Row Three after Valiant Qualifying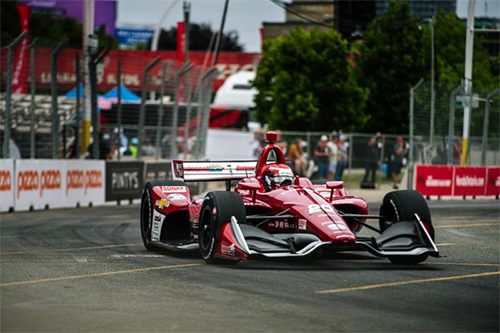 Scuderia Corsa and Ed Jones began the Indy Toronto race from the outside of Row Three in the No. 20 Ed Carpenter Racing Scuderia Corsa Chevrolet, the team's top start on any street circuit and third appearance in the NTT IndyCar series Fast Six. Jones highlight to the weekend was not only his qualifying effort but his opening stint in the 85 laps street race. Jones took the No. 20 up to fifth almost as quickly as the green flag dropped. After a short yellow due to a multi-car pileup on Lap 1, Jones picked up right where he left off and took over fourth place. He accumulated third place before making his first pit stop. Jones spent his race fighting back to the front after making the switch from red Firestone tires to black and entering the competition in twelfth after his first pit stop. The race remained green until the last lap of the race when a competitor made contact with the wall. Jones completed the race in twelfth after making the Toronto Indy a two-pit stop race.
For Jones, Toronto was another learning experience for the team, and he hopes to take a few lessons forward with him. "We had a great first stint. The Ed Carpenter Racing Scuderia Corsa car was really fast. We were able to pass Newgarden and Rosenqvist in those first few laps and may have even had better pace than Rossi. It all started off really well, but as soon as we had to start saving fuel, we didn't have the balance to keep pace. It cost us a lot and unfortunately, we fell down the order. We definitely found a few things this weekend that are going to help us everywhere. If we can keep building on that, we should be in good shape when I am back in the car in Mid-Ohio."
For Team Owner Giacomo Mattioli Toronto showed great promise for the end of the season. "Ed did a great job in qualifying yesterday and he had a terrific first stint today, it is something we can build upon," Mattioli said. "I feel like the partnership with Ed Carpenter Racing is only getting better as the season progresses. We are looking forward to the remaining of the season ahead."
Scuderia Corsa and Ed Jones next travel to Mid-Ohio Sports Car Course, the Indy 200 at MidOhio follows the NTT IndyCar series next race at Iowa Speedway. The race takes place July 28 at 4:30 p.m. ET and is broadcast on NBC.