Scuderia Corsa Takes on Final IndyCar Race of 2019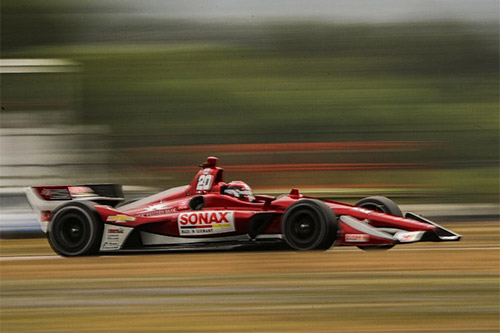 Scuderia Corsa celebrates the 2019 NTT IndyCar Series season finale with Ed Jones at WeatherTech Raceway Laguna Seca for the Firestone Grand Prix of Monterey in what will mark the end of a 15-year hiatus for IndyCar since last running the road course.
Scuderia Corsa caps the NTT IndyCar season off by making history with the North American open-wheel series in its long-awaited return to historic Laguna Seca. Jones will wheel the No. 20 Ed Carpenter Racing Scuderia Corsa Chevrolet around the 2.238-mile, 11-turn road course for his final time this year. He will battle down the famed Corkscrew, Turn 8, taking on 300 feet of elevation change. With one last podium up for grabs, the Firestone Grand Prix of Monterey is sure to be an intense battle.
WeatherTech Raceway Laguna Seca's motorsport history covers numerous forms of racing including NTT IndyCar, MotoGP, IMSA and many more. With Mattioli Automotive Group dealerships nearby Scuderia Corsa considers WeatherTech Raceway Laguna Seca home, making it a fitting venue for the close of the 2019 IndyCar season.
For Jones Laguna Seca brings back good memories and marks the start of a new goal.
"I'm looking forward to going back to Laguna Seca," Jones said. "Last time I raced there I won the championship in Indy Lights, so it has a good history for me. Obviously, we hope to have some similar success in the coming weekend. I think it will be tough again. I'd like to make the most of the last race of the weekend and have something good to look back on. I'm actually looking forward to finishing the season so we can start working towards next year."
The final NTT IndyCar weekend of 2019 begins with practice Friday, Sept 20. Practice One takes place at 10:30 a.m. PT followed by Practice Two at 2:10 p.m. with Pit Stop Practice ending the day at 3:10 p.m. Saturday, Sept 21 kicks off with Practice Three before NTT IndyCar Qualifying gets underway at 1:35 p.m. Race day is Sunday, Sept 22. The 90 lap, Firestone Grand Prix of Monterey goes green at noon local time and 3 p.m. ET. Watch the race live on NBC.