Scuderia Corsa 2019 IndyCar Review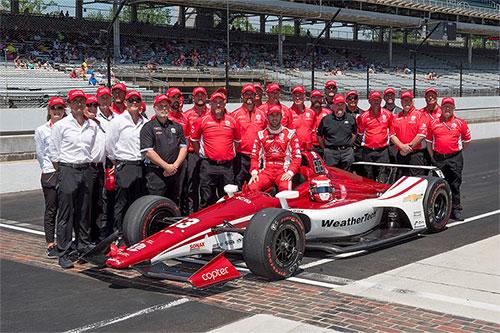 Scuderia Corsa took on a considerable challenge in 2019 by running a full season of street course races in the NTT IndyCar series while still competing in both IMSA and Ferrari Challenge.
Team Owner Giacomo Mattioli selected driver Ed Jones and enlisted the help of Ed Carpenter Racing to run the No. 20 Ed Carpenter Racing Scuderia Corsa Chevrolet for the tremendous effort. Over the 2019 season, the team showcased immense speed and reached new highs, most notably in May during both the IndyCar Grand Prix and the Indianapolis 500, while overcoming the obstacles presented in racing.
Scuderia Corsa sat down with Jones to review his third NTT IndyCar year. He recaptures the best moments and gives us his take on how the series is shaping as he looks ahead to 2020.
Scuderia: Looking back, what would you list as your top three moments this year?
Jones: "I think the whole build-up to Indy was the best part of the year, definitely my favorite. We had a test day where we were the fastest, I had the fastest no-tow speed in May, we were fastest overall on one of the final practice days, and in qualifying, we were the fastest in top speed. The Scuderia Corsa Chevrolet reached 241 mph which no one else achieved the entire month or year. We also did well at the Indy GP and Toronto, making it into the Fast Six. We had some great starts this year overall. They were good steps, and hopefully, the team can continue to capitalize on that."
Scuderia: The month of May was an excellent performance overall, what do you think makes that race so unique?
Jones: "I think for me, it's the race that really stood out my rookie season. It's always been a special race for me because of that moment. It's the biggest race of the year with more people in attendance than any other venue. It's so challenging being on an oval and racing 500 miles. You have to get everything right; you aren't allowed to rest. If you don't get everything right, you will not get the overall result, and that is what makes it the most rewarding race of all. It's part luck but part talent. You can be down a lap at one point and still win the race; you never know what can happen."
Scuderia: With the Indy 500 as your only oval, did you miss running ovals this year?
Jones: "I enjoy ovals, they're a different type of challenge so yes I would have liked to have done more. The way racing has gone, it's a fortunate thing, they've made many safety improvements. Those changes, in my opinion, take away a bit of the fear factor. I think you have to have a thrill. It's only on an oval that racing gets frightening at points. As a driver, you need moments like that as it makes it more rewarding mentally when you get it right."
Scuderia: How do you think IndyCar competition fairs on a world stage against other series?
Jones: "I think it is a super competitive series; however, between the teams, there is probably a bigger difference than people think there is. What was highlighted to me this year is how important it is to have the whole package, just the right people in every position. You have to have it all to really compete. I've been impressed with how much the series has grown, even in the three years since I've been over here. It seems like everyone is taking the extra step needed to keep growing."
Scuderia: There seemed to be an emphasis on younger drivers this year, what's your take on highlighting the rookies and new drivers?
Jones: "You did see younger drivers doing well at certain races, which is great for the series because the older guys only have so much time to keep going. However, if you look at the drivers at the head of the championship are the older guys, someone consistently there every race. That's what the younger guys are missing is the experience and consistency. I think that comes with time."
Scuderia: You alone were Scuderia Corsa's representation on that stage, did you feel well supported from Scuderia Corsa?
Jones: "I thought the Scuderia representation was great all year. When you're racing the people, you work with make a difference. It is important to have good people around you. We've shown flashes of brilliance this year, but we had our tough moments as well. Scuderia has the experience themselves on the sportscar side to know how to get through it. They know how the whole show works. I really appreciated having Giacomo this year specifically. It was nice to be able to decompress with someone outside of the weekend and have extra support."
Scuderia: We have to give credit where it is due, would you like to thank our partners?
Jones: "Yes, of course, thank you to Scuderia Corsa for the season; it's been a pleasure. I have to thank Pacific Western Bank for their support through the entirety of the season as well as Copter and their effort. Also, thank you to WeatherTech for their support at the 500. I appreciate them all for making this year possible."
The 2019 NTT IndyCar season presented a learning curve for Scuderia Corsa. The team attacked the challenge with the steady endurance it shows in every form of racing. Leading the charge was none other than Mattioli. He enjoyed the process of his first full IndyCar effort and the second year running the Indianapolis 500 while the business of racing is never predictable Mattioli calmly took in stride each new experience the season brought.
"I think we can be proud of what we accomplished," Mattioli said. "In racing, you will always have days that are better than others, but we had plenty of good days this year. We would not have been able to make it possible without Ed Carpenter Racing and the hard work their team provided. I am also thankful for Pacific Western Bank for their support in our program as well as Copter. It's true, without them none of this is possible."