Ed Jones Has Strong Drive in Genesys 300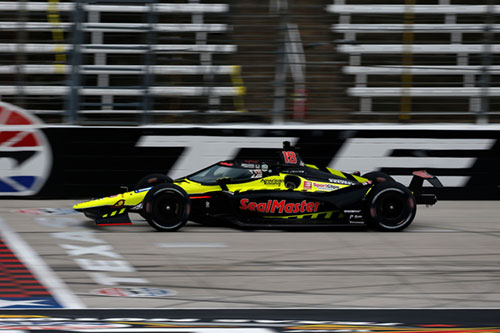 Ed Jones Race Summary:
Ed Jones had a strong performance in the No. 18 Team SealMaster-Dale Coyne Racing with Vasser Sullivan car finishing 12th in the Genesys 300 at Texas Motor Speedway in Fort Worth, Texas.
Due to inclement weather, today's schedule was adjusted and qualifying was cancelled. The starting field was set based on championship points, so Jones started 19th.
He dropped to 21st early in the race, however toward the end of the first stint his ability to save his tires while maintaining his speed and passing cars allowed him to advance nine positions.
The first yellow of the race came out prior to Jones pitting for the first time. When the pits were opened, Jones pitted and rejoined the race in 10th place.
He passed two cars to move into eighth place and slotted into a race-high fourth before making his second stop.
He rejoined in 17th place, passed three cars and pitted for the third and final time in 14th place.
During the final stint he picked up to more positions to finish 12th.
The Genesys 300 was Race 1 of the Texas Motor Speedway doubleheader which will conclude tomorrow with the XPEL 375.

Ed Jones Race Quote:
"We had a really tough time in practice this morning, however the SealMaster crew made some great changes for the race, and we ended up with a great race car! We took it step-by-step in the race, made some great passes. We made our way forward. I lost a few spots, I'm not sure how. On the last restart I tried to make as much time as I could and made up a few spots. It was a fun race. A decent result considering where we started and hopefully we can have a better one tomorrow.
Ed Jones Fast Facts:
Jones earned 18 points today and is now 17th in the 2021 NTT INDYCAR SERIES championship standings with 43 points.
The 2021 Genesys 300 was Jones' 50th career NTT INDYCAR SERIES starts and third at Texas Motor Speedway.
The 12th place finish was Jones' second best in three races at TMS behind a ninth place showing in 2018.
Jones is contesting his fourth NTT INDYCAR season and first with Dale Coyne w/ Vasser Sullivan.
In his 50 career INDYCAR starts, Jones has earned 14 top-10 finishes including three podium performances Third at Indy in 2017, and third at Long Beach and Detroit Race 2 in 2018.
Jones was the 2017 INDYCAR Rookie of the Year and was the top-rookie finisher in the 2017 Indianapolis 500, placing third.
Jones, 26, was born in Dubai, United Arab Emirates (of British citizenship) and currently resides in Miami, Florida.