Jones Back In Happy Spot Feeling Thrill Of Speed At Indy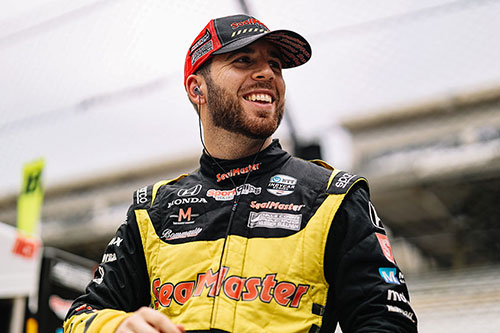 Ed Jones knows he should have participated in Sunday's Fast Nine Shootout during Crown Royal Armed Forces Qualifying at the Indianapolis Motor Speedway, giving him a shot at the pole for the 105th Running of the Indianapolis 500 presented by Gainbridge.
Instead, he'll roll off the grid this Sunday from the 11th starting position, in the middle of row four. Jones said his No. 18 SealMaster Honda had the wrong gearing in his first run Saturday morning, resulting in a slower speed.
There was an internal debate happening within his Dale Coyne Racing with Vasser Sullivan team as the final hour of qualifying approached Saturday: settle for 19th on the starting grid or try to improve their starting position.
Jones was adamant he needed to make another qualifying attempt. With the right gearing, even in the heat of the of the day, Jones was confident he could improve his position. He estimates if he had the right gearing for his first run, he would have slotted sixth in the Firestone Fast Nine Shootout on Sunday.
He eventually won that discussion with the team and hit the track with nearly 40 minutes remaining in the session. Jones' hunch was right: He improved eight positions.
"I just knew we had so much more potential," he said. "You don't want to risk it in qualifying; the team doesn't want to do that. I know there's probably a lot of other drivers who wouldn't want to get back out there after they've done that run. But for me, qualifying at Indy is probably one of my favorite things because of all the stress that goes into it and how rewarding it is when you get a solid run."
Jones, 26, has felt confident about his chances in the Indianapolis 500 since the NTT INDYCAR SERIES hosted a doubleheader in early May at Texas Motor Speedway. He finished 12th in Race 1 and 22nd in Race 2 after being involved in a Lap 1 accident that was none of his doing.
On the combined results of practice charts for the Indy 500, Jones boasts the ninth-fastest practice speed of the month with a best lap of 231.569 mph. He said his team has put less of a priority on putting up a big speed by virtue of an aerodynamic tow and instead ensuring he has a car that races well.
In that regard, Jones is feeling good about his team's status.
"I know the speedway package this team put together was super strong at Texas; we were just a little bit unlucky with some things," he said. "I knew we were going to be up there (on the practice charts). I think we should be higher up than we are, so it's not a surprise to me. I know I run really well around here, as well.
"It's all about looking your best on the right day. I'm not surprised. Just constantly working and trying to figure out how we can get a little bit more out of everyone."
Jones is also excited to be back in the NTT INDYCAR SERIES and at the Racing Capital of the World. Due to the COVID-19 pandemic, Jones was unable to put together a ride for the 2020 season. Instead, he spent his quarantine taking artificial intelligence and business management courses through Massachusetts Institute of Technology (MIT).
Jones, who loves learning and improving himself, appreciated the opportunity to learn from such a prestigious academic institution. But the Brit, who hails from Dubai, United Arab Emirates, is back to doing what he loves on the racetrack he loves the most.
"It's the only thing that frightens me sometimes," he said. "You enjoy it even more because of that. Today, there's not many things you can get a thrill like that, and that's the thing I missed most last year not being in INDYCAR -- that thrill. There's a lot of times where you're like, 'What am I doing?' It's just crazy, but at the same time you're like, 'It's the best thing ever.' I just enjoy it so much. My driving style helps on ovals, as well."
Combine his driving style with the car his team has provided him, and Jones likes his chances in "The Greatest Spectacle in Racing." In three starts, he has a best finish of third and a best start of fourth.
The top 10 starters in Sunday's race all represent some of the biggest teams in the NTT INDYCAR SERIES or are accomplished drivers at IMS. And then there's Jones, who has three starts in the race driving for a two-car team that hasn't won a race since 2018.
Jones admits that on paper his team might seem like an underdog, but he doesn't believe race fans should count him out.
"I don't feel like I'm an underdog," he said. "In terms of teams, we probably are. But if I was to win the race on Sunday, I wouldn't be surprised one bit. I know where I stand, and for me to be back on podiums and doing things like that, it wouldn't surprise me. I feel like that's where I deserve to be."
Keep in mind: that third-place finish in his rookie run in 2017 came in a Dale Coyne Racing car. Where did he start? 11th.